Filter by Category
Alcohol inks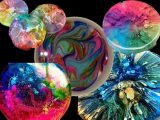 EW-08-20 Resin & Alcohol Inks coasters "Bursts of Colors"
with Pia Douglas

Next available session starts Aug 20, 2021 at 5 pm
Resin and Alcohol Inks Coaster  "Bursts of Colors"
Friday, August 20
5 - 7 pm
Instructor: Pia Douglas
$31.50 members | $35 non- members
Ages: 14 + to adults
Attention: the registration for this workshop will close 3 days prior to the workshop 
Dive into a miryad of colors, play with this enchanted medium that is alcohol inks, then encapsulate these bursts of light into resin to keep as a souvenir of a moment in time. Very cool!
Enjoy making a set of 4 costers with your favorite summer colors for you or as a gift.
You will carefully be pouring the resin in our beautiful diamond edge crystal coaster molds. Then learn how to proceed to obtain the effect of burst flowers or milky ways.
Beware this is Highly addictive!
We will leave the resin to set for 48 hours and the coasters will be ready to be picked up thereafter.
Remember, we are playing it safe for everyone so we wear our masks and keep our social distances at all times.
Maximum 10 participant per class.
We have a 24 hour cancellation policy. Please feel free to contact us at 419.756.1700 or george@mansfieldartcenter.org
Thank you for your support of Mansfield Art Center.