Filter by Category
Build and Paint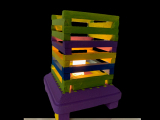 E-05-08 or 05-12 STEAM "Jenga Night Light"
with Victoria Hoefler

Next available session starts May 8, 2021 at 4 pm
1 additional session on May 12, 2021
STEAM project:  'Jenga Night Light" 
2 independant workshops (one workshop to complete one light)
Saturday, May 8, 2021
4 pm to 6 pm
or 
Wednesday,  May 12, 2021
5 pm- 7 pm  
Instructors: Victoria Hoefler and Pia Douglas
Age:  8 years old to adults 
$31.60 members | $34 non-Members
Attention: registration closes 3 day prior to the first class
Close of registration is May 5th
An adorable little nite light for every one to make. Wood, socket, bulb and wire is all included. all you have to do is plug it in once you have built it!
Particpant will cut the wood followed by the paint of their choice; aplication and then it will be construction time! Respect of geometric form and exactitude of constrution is the goal. A lovely 3D project for all ages.
For the safety of everyone we recommend social distancing and masks are required. Due to covid-19 we can only accommodate a maximum of 10 people for the class, so register soon!
A waiting list will be available.