Filter by Category
Children Creative Classes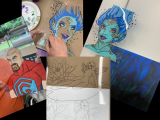 EC-10-03 to 11-21 Animation Station
with Rachel Kent

Next available session starts Oct 3, 2021 at 2 pm

, runs for 2 weeks
3 additional sessions through Nov 21, 2021
Sunday's : 2 pm -5 pm
2 classes |4 sessions for your convenience
Session 1: October 03-10 
Session 2: October 17-24
Session 3: November 7-14
Session 4: November 21-28
 Instructor: Rachel and christopher Kent
$58.50 members | $65 non- members
Ages: 11 to 18
Which one is your super  Hero? iron man? spiderman? superman? do you prefer vilains? or disney movie character? or  do you prefer creating you own. Here is aN awesome way to design and create your character with an impressive technique.
You instructors, Rachel and Chris Kent, have developed highly effective teaching techniques to assure that every student is engaged in the artistic process as you create your first cell of animation.
Take advantage of this unique opportunity to use acetate as you learn to draw anatomy, design characters, paint background and capture motion. here is your opportunity to learn how to create motion animes.
This class can be built upon through Christopher Kent's other courses which will be available in the future. All are welcome!
All children ages 11 to 18 are welcome. 
We have a 24 hour cancellation policy.
 Please feel free to contact us at 419.756.1700 or george@mansfieldartcenter.org 
 Thank you for your support of Mansfield Art Center.