Filter by Category
Kids & Canvas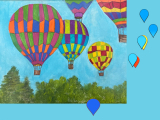 E-05-07 Acrylic painting "Up, Up and Away"
with Victoria Hoefler

Next available session starts May 7, 2021 at 5 pm
Acrilyc Painting "Up Up and Away"  
Friday | May 7, 2021 
5.00 pm- 7.00pm  
Instructor: Victoria Hoefler
Age:  11 years old to adults 
$24,30 members | $27 non-Members
Attention: registration closes 3 day prior to the first class
Close of registration is May 8th
Come fly up, up and away in our colorful ballons soaring above the trees.
Acquiring the knowledge of  the primary and secondary color wheels is one of the goals of this acrylic painting. Also, learning about patterns and blending colors is one of the many fun experimental elements of playing with this easy painting.
Participants will create " Up ,Up and Away " on a streched 11x14 canvas. Victoria Hoefler, you instructor, will inform you step by step on how to paint like a pro.
For the safety of everyone we recommend social distancing and masks are required. Due to covid-19 we can only accommodate a maximum of 10 people for the class, so register soon!
A waiting list will be available.