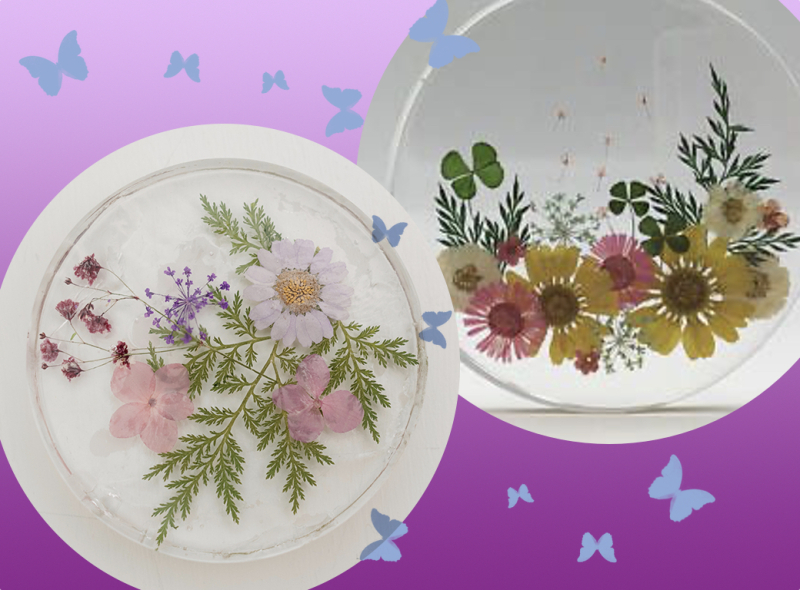 E-06-04 Resin Coaster " Petals Forever"
with Pia Douglas
$3500
Resin Coaster  " Petals Forever"
Friday June 04
5 - 6.30 PM
Instructor: Pia Douglas
$31.50 members | $35 non- members
Ages: 16 + to adults
 Attention: the registration for this workshop will close 3 days prior to the workshop 
Close of registration: June 1 2021.
Let the sun shine a little longer and it will  be just the right time to collect a few petals and leaves. The souvenir of an enchanted moment can be encapsulated between two layers of resin in these romantic looking coasters.
These flowers will be forever yours and the memory of a good time making this beautiful series of 4 costers along with it.
You will carefully be pooring the resin in our magical diamond edge crystal coaster molds and laying out your favorite leaves, flowers and petals. You are welcome to bring your own flowers or leaves, however, we have MANY to choose from to make your unique pieces.
We will leave the resin to set for 48 hours and the coasters will be ready to be picked up thereafter!
Bring your own dried flowers or use our beautiful stash of dried flowers.  
Remember, we are playing it safe for everyone so we wear our masks and keep our social distances at all times.
Maximum 10 participant per class.
We have a 24 hour cancellation policy.  Please feel free to contact us at 419.756.1700 or debra@mansfieldartcenter.org 
Thank you for your support of Mansfield Art Center.
Resin Coasters Flowers Forever:

Jun

4th

,

2021

Fri

from

5:00 - 6:30 pm
The Mansfield Art Center
(419) 756-1700
700 Marion Ave.
Mansfield, OH 44906 Get directions