Filter by Category
Ceramics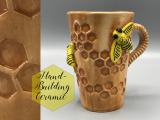 EW-05-18 Clay Hand Building " Honey Comb Bee Cup "
with Mike Swiderski

Next available session starts May 18, 2022 at 5:30 pm
Clay Hand Building " my Honey Comb Bee Cup "
Wednesday May18, 2022 
5.30 pm- 7.30pm  
Notice:
Glazing times for any clay classes are available every second and  fourth Saturday of each month from 5pm to 7pm. Please wait 2 weeks for your project to be fired and ready to be  glazed.
 Please wait 1 weeks for your project to be picked up after glazing ans re-fired.
 You can go to "Glazing time" or click on the link to register for "your glazing time."
Instructor Mike Swiderski
Age:  15 years old to adults 
$35.50 members | $39 non-Members
 After the wonderful results of the previous class and by popular demand this class is offered again.
 Some of the loveliest vessels are often the vessels that are uniquely shaped by hand especially when Mike Swiderski , your instructor, carefully, patiently and methodically directs you into making your own vessel. 
Participants will use the hand building method to bring this delightful cup alive.
Bees are part of the design and you can put as many as you want.
You will have fun in using texture, and glazes to decorate your creation and make it your very own.
Don't forget to register for your glazing time where you will have the opportunity to learn how to dip you vessel into glazes the way the potters do or paint your glaze with sroke and coat glazes for a more detailed look.
Can you see  yourself on the patio this coming spring sipping your coffee in your very own made cup!
For the safety of everyone we recommend social distancing and masks are required. we can only accommodate a maximum of 10 people for the class, so register soon!
A waiting list will be available.
Please feel free to contact us at 419.756.1700 or george@mansfieldartcenter.org 
Art Exploration Summer Camps
with All Instructors

Next available session starts Jun 13, 2022 at 9 am

, runs for 1 week
3 additional sessions through Aug 1, 2022
Art Exploration Summer Camps
With :
Oliver ray, allison Bloom 
Victoria Hoefler 
Yani Sheng
Nikki Noel
Nick Christns
Tony Sansalone
Yasminah Rawls
Pia Douglas
 Time:
9 am to 3 pm
Monday through Friday 
Dates:
Camp 1: June 13 - June 17
Camp 2:June 27 - July 1
Camp 3:July 18 - July 22
Camp 4:august 1 - august 5
Age:
6 to 12 years old
Price:
 $300 per child per camp .
We believe that children learn best through the process of discovery and exploration!
The active learning, or "hands-on" approach, is developmentally appropriate for all children regardless of their age.
Each camp will consist of hours of fun art discovery mixed with outdoor activities and lunch. 
Children will have the opportunity to discover an array of mediums ( see below) that they normally would not have access to in a school environment. 
Eache day, the young artists will experience 2 new mediums, eat, play and exercices.
Our instructors and volunteers are dedicated to make each camp, a memorable time for the children!
Children are expected to  bring a packed lunch and drinks as it is important that they remain hydrated throughout the camps.
Should you have any question you can email: pia@mansfieldartcenter.org 
or call the Mansfield Art center @ 419.756.17.00
Children will have the opportunity to experience the following mediums:
Mosaic
Play with pieces of kilned glass like a puzzle to make a picture!
Polymer Clay
Imagine, Create and make your story come to life! Have Fun.
3D Printing
Real life technology at your fingertips. Print a frog from a computer...Fascinating!
 Glass Blowing
Glass Blowing will leave you in awe as you watch and help create a vessel from liquid to solid!
 Block Printing 
Discover the ancient art of block printing and create your own. 
Painting 
Develop your artistry for life with a good understanding of the color theory.
Fiber Art
Experience the fun to weave, knot and create  3 D projects with fibre Art.
Ceramics
Awaken your imagination and develop multi-sensory experimentation in sculpting baby Groot.
Glass Fusing
Yes this is Physics... Learn how you can create a solid Glass feather with just powder!
Lantern Making
Understand the origin of a foreign culture as you cut, paint and decorate a lantern of your choice! 
origami 
For a moment in time, calm will ensue for those interested in origami.
Thank you for your support to the Mansfield art center.