Filter by Category
Glass Fusing
E-06-18 & 25 Dichroic Glass Fusing and Copper Wire Art
with Pia Douglas

Next available session starts Jun 18, 2021 at 5 pm
Glass Fusing and Copper Wire Art
2 days 
June  18 & 25 } 2-Fridays | 5.pm - 7.pm
Instructor: Pia Douglas
$41.50 members | $45 non- members
Ages: Adults
Attention: the registration for this workshop will close 3 days prior to the workshop close of registration: june 15  2021.
An art form you will be proud to wear!
Made with dichroic glass you will learn to cut and place glass as you see fit on your pendant. Once fused, you will create a copper wire support for your jewel.  An interesting combination of material and a very nice piece to offer as a gift or keep for yourself.
Remember, we are playing it safe for everyone so we wear our masks and keep our social distances at all times.
Maximum 10 participant per class.
We have a 24 hour cancellation policy.  Please feel free to contact us at 419.756.1700 or debra@mansfieldartcenter.org 
Thank you for your support of Mansfield Art Center.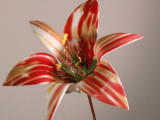 E-07-10 & 24 Glass Fusing Iris flower
with Pia Douglas

Next available session starts Jul 10, 2021 at 1 pm
Fused and Slumped Glass Iris Flower on Copper Stem.
Saturdays | July 10th & July 24th 
This is a worshop over 2 days 
1pm-3pm on both days
Ages: 16+
Instructor: pia Douglas
$54 members | $60 non members
An exceptional and very interesting workshop of glass fusing!
Participants will cut their flower petals and leaves in the color of their choice, followed by a fusing session on how to understand and fuse your glass as well as slumping the glass over a mold to obtain the desired shape.
In the second worshop you will construct your flower on a copper stem and decorate the center of your flower with beads on copper. 
 Rest assured that the Mansfield Art Center takes sanitation seriously at all times. For your protection and other's, we kindly ask you to respect social distancing and to wear a mask for the duration of the workshop. 
Only a maximum of 8 people can register for the workshop so make sure you sign up on time.
A waiting list will be available