Filter by Category
Family Glass fusion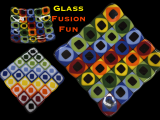 EW-06-07 Glass Fusion: Tic tac Toe Color Game
with Pia Douglas

Next session starts Jun 7, 2023 at 5 pm
 Glass fusion  "  Tic tac Toe Color game  "
5 to 7 pm 
Instructor: Pia Douglas
$ 40.5 members | $ 45non- members
Ages: 8 to 12 and 12 to adults
Age 8 to 12 and must have a parent or guardian present.  
Play with colors and form a pleasant rythm for the creation of this unique dish. on a black or white glass base, you will design a color pattern to suit your liking. 
All the pieces are alredy cut for you to have all the fun of placing your colors. an excellent project for quality time with son, daughter, niece, nephew, or simply your best buddy!
Your project will then be fired.
Bring a drink, food, give yourself some me time and let your creativity flow!
Maximum 10 participants in this class.
We have a 24 hour cancellation policy.  
Please feel free to contact us at 419.756.1700 or
Pia@mansfieldartcenter.org concerning this class only
Thank you for your support of Mansfield Art Center.
Full Course